MX
Founded in 1951 by Louis Mailleux in Acigné, Brittany (France), the company initially manufactured ploughs. As an entrepreneur with a desire to make the work of farmers easier, Louis Mailleux designed and industrialised the his front loader in 1963. MX has now built up 70 years of close collaboration with farmers. Bolstered by this renewed sense of confidence, the family company with its 550 staff continues to grow.
MX is France's largest tractor loader manufacturer, and Europe's second largest, it is also represented on every continent. MX relies on a strong network of dealers, importers and its two commercial subsidiaries in the UK and Germany to distribute all of its product ranges in 64 countries across the world. Two factories established in India in 2012 and Brazil in 2014 enable MX to meet the specific requirements of clients in these two major markets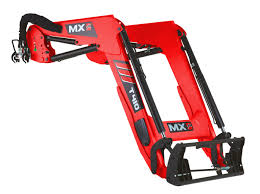 Tractor expertise is MX's core business. Expertise recognised by customers who put their trust in the company to advise them, support them and help them to choose the products that best meet their day-to-day needs. Attentive to developments in the tractor market, MX equips 7,500 models of tractor between 15 and 300 hp, covering 45 different makes and develops around 150 brackets every year. With 50 employees in its design office and innovation hub, MX has upgraded and expanded its entire product range within the space of 6 years.
---
There are no products to list in this category.